Double click image to zoom in
Click image to open expanded view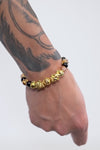 High energy
Sal this is the second purchase I've made and your crystals never fail to meet my standards. Thank you for this beautiful energetic bracelet!
Finally arrived
Thank you again Sal! Its beautiful and now they are 3 to my wrist ❤️
Let's get the money roll 💸💶
I feel connected to it
I just got it today and I feel really connected to it, been so excited to receive it. Thank you Sal. I wish one day I could meet you in person and really wanted to visit your store.
Love My Double PIXIU
This my first time to have a PIXIU and I Love Love Love it!!! Monies have been easy for me lately. This is my new favorite bracelet, among my other bracelets that I have. I always wear it with my other bracelets. Thank you Sal for the quality and love you put in making these bracelets! The quality of your workmanship is superb!!!
ONLY AVAILABLE AT EAT READ LOVE
Our Most Unique Collections